We all want the best for our furry loved ones, and fleas are one of the most common things that can bring them discomfort.
However, there are a number of flea medications out there, including options like Trifexis. These annoying little parasites can cause itching, scabs, and even infest your home if left unchecked. Because of that, Trifexis is one of many options worth trying out to keep your home and pets flea-free!
What Is Trifexis For Dogs?
Trifexis is a relatively simple medication that you can provide on a monthly basis to keep parasites away from your dog. It's a tablet that takes about half an hour to get working, getting a handle on fleas, heartworm, roundworm, and hookworm that can come alongside them.
What Does Trifexis For Dogs Do?
There are a variety of parasites that you can rely on this medication to keep away from your dog.
Such parasites include:
Heartworm
Roundworms
Hookworms
Keep in mind that Trifexis does not kill ticks, so you may need another medication for that if ticks are a problem for your dog.
Trifexis For Dogs Doses
Overall, the proper Trifexis dosages are based on the weight of your dog.
Trifexis dog dosages include:
140mg/2.3mg for dogs 5lbs to 10lbs
270mg/4.5mg for dogs 10.1lbs to 20lbs
560mg/9.3mg for dogs 20.1lbs to 40lbs
810mg/13.5mg for dogs 40.1lbs to 60lbs
1620mg/27mg for dogs 60.1lbs to 120lbs
This dosage continues upward, depending on the weight of the dog. If you're unsure what dose to give your dog, make sure to discuss it with your vet and they'll surely be able to ensure you're providing the right amount.
Trifexis Overdose Symptoms
To make sure your dog is as safe as possible, it's good to know all of the symptoms that might represent an overdose.
Typically, you'll be able to tell how your dog is handling the medication within about an hour of giving it. Keep an eye out for signs that might show your dog is confused, or otherwise behaving abnormally.
Other symptoms of an overdose can include large amounts of vomiting, lethargyor becoming very sleepy. These can be signs of a larger problem, so it's a good idea to contact your vet if you notice these symptoms.

Trifexis For Cats
While there is no variety of the Trifexis brand that is made for cats, the medication that is used within the brand can be used for them.
What that means is that the active ingredient is safe for cats and dogs. However, please talk to your vet before using Trifexis on your cat to see if they can provide a better option. Trifexis as a brand is made for use on only dogs.
Trifexis For Puppies
Trifexis is safe for puppies who are at least 8 weeks old, and who weigh at least 5lbs.
If you're seeking to provide this medication to a puppy lighter or younger than those limits, it's best to talk to your vet about the reasons why so that they can provide the best course of action. Otherwise, permanent negative effects can result.
Instead, a vet will be likely to have other options that can help your puppy.
How Does Trifexis Work?
Trifexis uses a combination of two medications, including milbemycin oxime and spinosad. Through these ingredients, it can both prevent and treat issues with fleas as well as a few kinds of worms.
Trifexis Benefits For Dogs
Compared to something like a flea collar, Trifexis for dogs gets more coverage. Furthermore, there is less of a worry about the kinds of poisoning that can occur with flea collars.
Some other benefits can include:
Can begin working in just 30 minutes
Vet recommended
Easy to use
Treats and prevents fleas, heartworms and more
Tablets are chewable
Simple to give at home
You can limit the amount of pills needed
Does My Dog Need Trifexis?
While the Trifexis brand may not be necessary, some kind of flea, tick, and worm preventative is a good idea. These medications essentially help to keep your dog healthy and happy, and assists with keeping the parasites they can attract out of your home. This is hugely beneficial to both pets and their owners, especially because some of those parasites can bring along added illnesses or other passengers.
Trifexis Side Effects
Most medications that we give our pets can contain some side effects. Typically, a normal side effect of Trifexis that can occur in dogs is vomiting. That said, this doesn't tend to be a long-lasting or damaging side effect, but more one of brief discomfort.
Some other side effects may include:
Appetite loss
Diarrhea
Skin or ear redness
Itchiness
Lethargy
Dogs who have epilepsy should not use this medication, as the side effects can be severe and result in problems that become permanent.
Some dogs can also have an MDR-1 mutation in their genes, causing them to be sensitive to avermectin. If this is true for your dog, it's best to avoid using this medication. If you're unsure, it can be a good idea to get a DNA test done for your dog before use to make sure it will be safe. Furthermore, it's worth knowing the symptoms of Trifexis poisoning for dogs with this mutation.
If you're wondering how long Trifexis side effects last, then it's worth keeping in mind that they shouldn't last too long or be in excessive amounts. If the issue is going on for hours after the pet has been given the medication, it might be worth a call to the vet.
Types Of Flea Medication For Dogs
There are many types of flea medicines out there for dogs, but not all compare well.
Three of the common choices are Sentinel, Revolution and of course, Trifexis.
To begin with, Sentinel for dogs is able to prevent roundworms, hookworms and roundworms, but not tapeworms. It also only kills adult fleas, but not larvae or eggs. In addition, it isn't known to prevent other parasites like ticks. Normal doses of Sentinel are also safe for nursing, breeding or pregnant dogs. It can also be used on puppies as young as 4 weeks old, and over two pounds. Furthermore, it comes in tablet form, like Trifexis for dogs.
Revolution is used topically and only prevents roundworms in cats. The same is true for hookworms. It does not take care of whipworms. Revolution is also capable of killing both adult fleas and their eggs. One aspect that sets Revolution apart is that it is made to prevent other parasites, such as ticks. In addition, it is safe for pregnant, breeding or nursing dogs. Puppies must be at least 6 weeks old.
Finally, Trifexis prevents hookworms, roundworms, and whipworms. It also stands apart by being able to kill fleas at all stages of life. Furthermore, it doesn't kill off other parasites. Trifexis, for ticks, isn't going to work well. If you're looking to use it on a breeding, nursing or pregnant dog, it's best to talk to a vet first. Puppies must also be at least 8 weeks old and 5lbs to use.
All three medications prevent heartworm, require a prescription and are given on a monthly basis. None of them address tapeworms as an issue.
Another popular option is Bravecto, which is very similar to Trifexis. Bravecto is able to kill off fleas as well as ticks on top of providing protection from heartworm. However, it does not prevent intestinal parasites, while Trifexis is able to do just that.
Revolution Vs Trifexis
Some of the key differences between Trifexis and Revolution are that Trifexis is able to prevent more types of worms in dogs than Revolution does. Furthermore, Trifexis is a capsule, while Revolution requires topical administration on dogs. Finally, Trifexis kills all stages of flea life while Revolution only kills off adults and eggs.
Trifexis Reviews
When you're shopping for a product to use on your pet, it's a great idea to take a look at what other users are saying about it. After looking through several reviews, we can help you to determine whether or not this medication is going to be best on your pet.
Here are some notes on what customers have had to say:
Dogs may not always enjoy the taste
Not all dogs will be fond of the smell
It's convenient that it's only needed once a month, and it tends to work quickly and at a fantastic price
Some customers can find that it's a bit expensive for their liking.
The good news is that while not everyone loves the price, it appears to work well and offer plenty of value for the cost.
Trifexis Cost
Keep in mind that the Trifexis price for dogs can be somewhat costly, and it does require the prescription of a veterinarian.
However, because it is prescribed by vets, there is a much higher chance that it will be safe for your dog, whereas a number of issues, some very serious, can occur if you aim for a lower-cost medication. You can also compare prices through a number of places that handle pet prescriptions.
Where To Buy Trifexis
Because the Trifexis flea pill is a medication that you need a prescription for, options for purchasing it can be fewer than over-the-counter flea meds. Unfortunately, that means that you cannot buy Trifexis at Amazon, but you can get Trifexis at Costco as well as a few other places including:
Chewy.com – $75-$95
KV Supply – About $85
1-800-PetMeds – About $100
Keep in mind that these prices can depend on the weight of your pet as well as the number of treatments you opt for.
Things like Revolution for cats are also not found at Amazon. Essentially, any pet medication that requires a prescription won't be available through that particular site, but there are a few that cater specifically to pet prescriptions, such as those listed above.
Trifexis Without Vet Prescription
This medication cannot be purchased legally without a vet prescription, so if you run into a site that claims to provide it without need for a vet, be very wary because it may not be the right product and may cause harm to your pet.
This is also true if you find Trifexis cheaply when compared to the standard pricing. While a lower cost can be tempting, the resulting product can also be very dangerous.
Trifexis Online
One of the conveniences that has come along in recent years is the ability to purchase prescription medications like Trifexis for sale through websites like Chewy and 1800PetMeds. However, keep in mind that you will need proof of the prescription to order Trifexis online. This might include providing a written prescription from your vet, or the company can contact your vet directly to verify.
You will also need proof of your prescription if you opt for Costco pet meds.
1. Trifexis Coupons And Trifexis Rebates
When you're making a first time purchase of Trifexis for dogs, vets will often provide Trifexis rebates to make the medication a little easier to afford and try out. So make sure to ask your vet about it when it's prescribed!
The same can also be true for Revolution for cats coupons. It never hurts to ask so that you can save a little money!
2. Natural Flea Preventatives
Some prefer to avoid using chemicals whenever possible on their pets. In those instances, it can be handy to know some of the natural Trifexis alternatives that are available for you.
3. Apple Cider Vinegar
Apple cider vinegar can be used as a spray for your pet or household, in baths or even in the drinking water of your pets. Make sure that the solution is diluted well, and it can work well to keep away fleas, as they don't like the scent or the taste of it, and will opt to move on.
4. Lemon
Fleas also don't like the scent or taste of lemon, so it can be another great option for assisting your pets. Keep in mind that like apple cider vinegar, lemon will need to be re-used and re-applied on a regular basis to keep fleas from moving in.
CBD For Dogs
CBD for dogs is an option rapidly growing in popularity. It assists with a huge number of problems from joint pain to anxiety to even the symptoms that can come with cancer. Consequently, it's an option worth checking out whether your dog is healthy, or has an issue you want to address.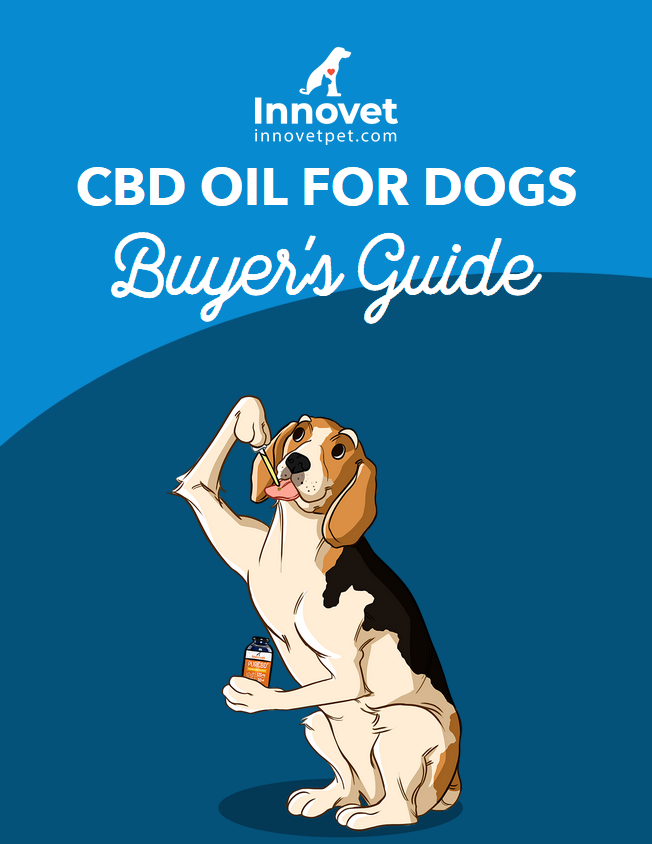 Don't buy CBD without downloading our FREEcomplete CBD Oil Buyer's Guide for Dogs!
All the information you need to know when purchasing CBD products and more!
CBD For Fleas And Parasites
While CBD cannot prevent fleas and parasites, it can help your pet to deal with some of the discomfort they can bring. The majority of pain or discomfort in the body comes from inflammation, and CBD is a substance that is able to naturally relieve that inflammation. You can also look at some Natural Pest Controlproducts to help prevent these pesky parasites.
If there are any other issues you want to assist your dog with, it also pairs well with most medications, and is perfectly natural and safe.
Top CBD Products
Check out these fantastic products to get your dog the help they need, in a form you'll both love!
CBD Oil
CBD oil for dogs is a fantastic option for dogs, cats and even horses. It comes in a variety on concentrations allowing for pets of all sizes to get the correct dosage. Using the dropper, you can also easily ramp up the amount used each time and allow your dog to get used to it slowly.
CBD Treats
Innovet also offers CBD dog treats and hemp soft chews that allow you to give your pet an enjoyable treat that provides all the benefits that CBD has to offer. It's a great option for those who want something very simple, that their dog will love!
Trifexis For Dogs: The Bottom Line
For most dogs, Trifexis can be a fantastic option to help with keeping your pet happy and healthy. In most cases, it's pretty easy to give as-is but you can also choose to add it into their food or a treat to make the process a little bit easier. It is a chewable tablet, so there's no worry for having to make them swallow a pill!
If you're interested in Trifexis, make sure to talk to your vet about it. While you're doing that it can also be helpful to ask them about the benefits that CBD can provide. Everyone feels safer about trying a new product on their pet when they know a vet recommends it!
Sources:
https://www.petmd.com/parasites/apple-cider-vinegar-for-fleas