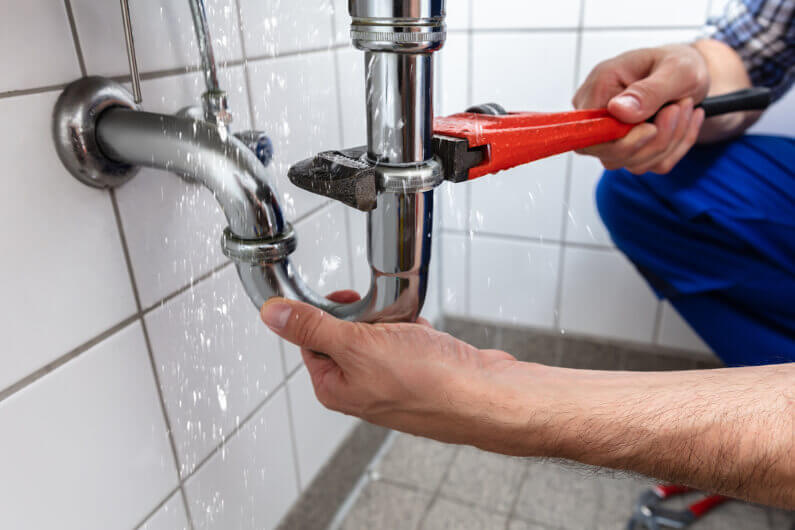 When it comes to being a homeowner it's safe to assume that at some point you'll come face-to-face with a plumbing issue in your home. In fact, it's estimated that 10% of homes in the US currently experience at least a small Plumbing Leak accounting for nearly 90 gallons of wasted water per day. This means that part of being a responsible homeowner will mean working with an established plumber and determining whether or not you are being charged the average plumbing repair costs.
While determining whether or not you're being charged a reasonable amount can be difficult for those without plumbing experience it's important to know the facts before hiring a plumber or requesting a quote.
To learn more about what's considered an accurate plumbing cost depending upon the repair read on for some helpful information.
What Goes into Plumbing Repair Costs
Before assessing the average plumbing repair cost, it's important to consider what really goes into plumbing repair.
When you're paying for a plumber to come into your home to do a job you're not only paying for the tools and hours spent on the repair job, you're also paying for the extensive schooling and training needed for the repairman to adequately be able to do their job.
You also want to know that while it's wise to shop for a deal, you never want to go cheap. The aim here is to find a price range that's fair, as cheap jobs tend to be done poorly and will require another plumber to come in the not-so-distant future.
When in doubt, you may want to call several plumbers to cost compare and see what's considered reasonable in your area.
Different Types of Repair
In addition to the training and experience of the plumber, the type of repair will play a large role in how much you can expect to pay on a plumbing repair job.
For example, installing a simple faucet will typically be a quarter of the price of installing new plumbing pipes, due to the fact that the plumbing pipes will also require additional time and work behind the wall.
Replacements tend to cost the most money as you'll be paying not only for the time it takes for the repairs but for the replacement parts that need to go in as well.
Your average toilet repair, one of the most common plumbing jobs, will typically average about $220 for the job. Having your sewer line cleaned comes in just slightly over that averaging about $300.
If you're building your home from the ground up and need to install a sewer main you can expect to spend between $2,000 to $3,000 on the project.
This is in a similar ballpark for installing a shower or installing a bathtub.
Install vs. Repair
When it comes to trying to save as much money as possible in the long run you may want to determine whether or not it's best to repair the problem or have it replaced entirely.
Each of these jobs will require an established professional, however, there's a number of factors that will come into play when deciding whether to repair or replace.
Some factors you may want to consider include how old the home is, whether or not the home has its original plumbing, how often this problem needs to be repaired, and whether or not you plan on reselling your home in the near future.
Remember, if you do plan on selling your home every detail of the house will be assessed when a real estate agent determines your property value, so it may be worth your while to invest in some new plumbing installation throughout your home.
You also want to take a look at certain clues that your home may be giving you. For example, if you notice strange clunking sounds happening on a regular basis, or certain necessary parts for your plumbing are no longer being produced, you can bet it's time for a replacement to occur.
When in doubt ask your plumber to come in for a consultation to give you a better idea of just how bad the damage truly is. Your plumber may find that it's actually worth salvaging rather than ripping it out and replacing it altogether.
What to Look for in Your Plumber
In addition to reasonable and competitive pricing, there are some important things to look for when hiring your plumber. It's always wise to look into online reviews or recommendation from friends and family when hiring anyone to do a service in your home.
Finding plumbers that are enrolled in your local Chambers of Commerce or come with background through the BBB organization is also a way to analyze the quality of service.
We even recommend picking up the phone to call and ask a few questions in regards to your plumbing project. Whether or not they can fully answer your questions without seeing the job it's not so much of a concern.
You can typically tell how much a business values customer service based on the way they address you over the phone.
The Plumbing Help You Need When You Need it
Now that you have a better understanding as to what the average plumbing repair costs of plumbing services will be, it's time to look into finding the right plumbing services for you.
Our team offers transparency and quality service for any size job and is happy to discuss any repairs you may have pending in your home. Contact us today for more information on how we can be of assistance.