Photo by Susan Pacek Photography
Originally Posted On: Wedding Blog – Planning a Destination Wedding: What You Need to Know, Part 1 (bluelindenweddings.com)
A destination wedding is an exciting way to celebrate your big day. Family and friends can join you and your partner on a vacation celebration, which can allow you to spend more time with guests than you might at a one or two-day celebration closer to home. Planning a destination wedding doesn't have to be an overly expensive or challenging endeavor, but there are some things you should know before you commit to a wedding far from home. Here's what you need to know about planning a destination wedding to get started.
How do you choose your destination location?
The location of your destination wedding is one of the most important components to figure out as early as you can in the planning process. Some couples may have a destination in mind that's special to their partnership or you may be considering multiple destinations that offer sun, sand, or adventure. When choosing a destination wedding location, do your research. Look for popular wedding destinations where you'll easily be able to find a venue and vendors. A destination wedding planner can also help answer questions about locations they plan for or what destinations fit your list of wants, needs, and wishes.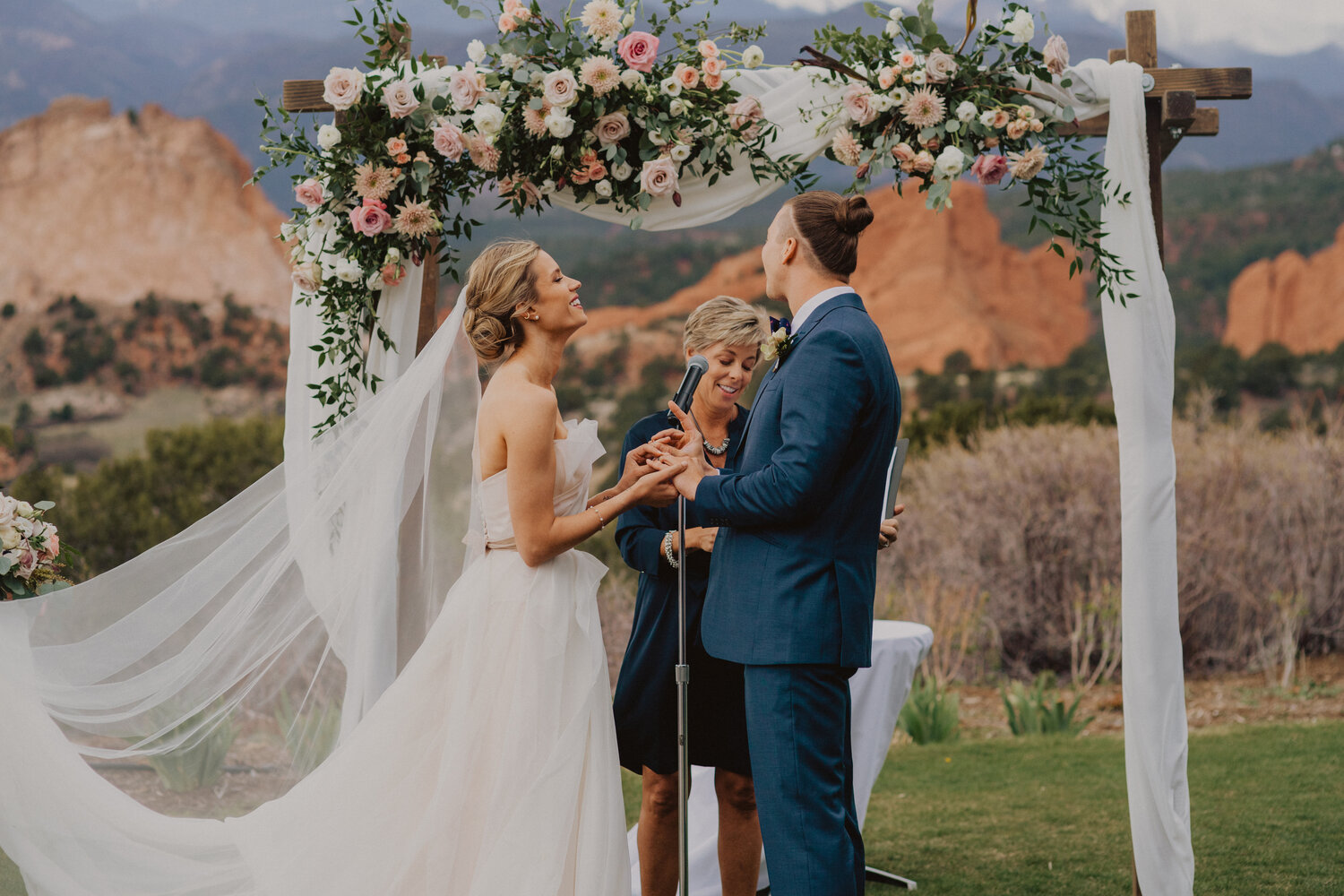 E & D's destination wedding captured by Kylie Morgan Photography at Garden of the Gods Resort.
What time of year is best for a destination wedding?
For many destinations, peak wedding season coincides with the tourism season. While you can find good deals during the off season, be aware of weather occurrences (like hurricane season) that could impact your travel plans. And give yourself at least 12 months to plan your destination wedding and give guests time to book arrangements.
B & B's destination wedding captured by Fly View Productions at (and near) Oaks Pioneer Church.
How much does a destination wedding cost?
This is a hard question to answer. Like planning a wedding at home, the cost for a destination wedding varies widely. While a destination wedding includes travel arrangements that can be more costly, destination weddings tend to be smaller affairs. For many couples, hosting less people at your celebration means you can stretch your budget to afford a wedding in your dream place. If you have a wedding budget established, talk with an experienced destination planner to see if a destination wedding is within reach.
Do you need a destination wedding planner?
You can plan a wedding from afar on your own, but having a destination wedding planner on your side can seriously simplify the planning process. Look for a wedding planner who has experience with your destination to take advantage of their connections to vendors, venues, and travel logistics. Having someone with travel and planning experience can take some of the uncertainty out of planning a wedding far from home.
Use image from littleton botanical gardens wedding (blanking on name but will update)
Check back next month for the 2nd part in this series! We'll share more about the destination wedding planning process after you've decided where you're headed. For a wedding here in Colorado, or in Costa Rica, Mexico, or anywhere across the world, check out our destination wedding services. We would love to help you bring your destination wedding to life!