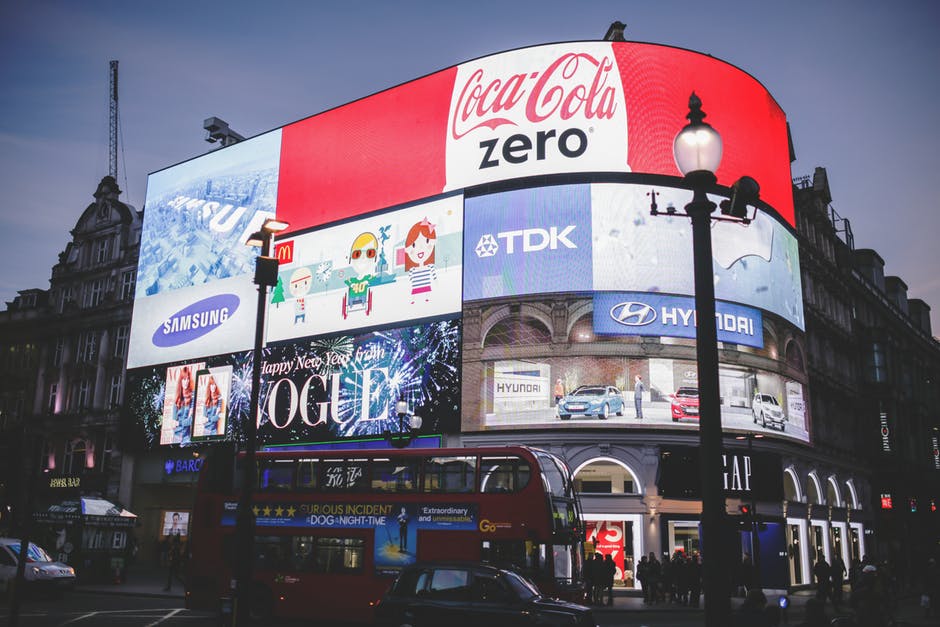 Originally posted on https://www.onlinelogomaker.com/blog/offline-anyone-7-traditional-advertising-methods-that-drive-sales/
There's no arguing that digital marketing is the way of the future. In fact, according to studies, chief marketing officers (CMOs) spend two-thirds of their marketing budgets on digital strategies.
However, this influx of dollars and expected continued popularity has led the digital space to become extremely crowded. Consumers are increasingly turned off by digital ads that can feel intrusive and even creepy.
At a time when everybody else seems to be all about getting ahead in the digital marketplace, the key to success may lie in taking a step back, kicking it old-school, and focusing on traditional advertising.
If you're still not convinced that offline advertising deserves at least a part of your marketing budget, stick with us. Here are seven extremely effective methods that you'll definitely want to try!
#1 Traditional Advertising Technique: Television and Radio
Although digital marketing is the big dog in town, there's still plenty to be said for television and radio advertising. Most people watch television, in fact, there are 119.9 million TV households in the U.S. alone. And 227 millionpeople also still listen to AM/FM radio, primarily in their cars.
It's easy to see that allocating a portion of your marketing plan to these media outlets can help you reach a large audience. And, since so many companies are leaning away from this type of advertisement, it's an easier space for you to make a name for yourself.
6 More Marketing Ideas You Need to Try
Although TV and radio ads continue to be an excellent option, many business owners just can't stomach the expense. For this reason, they tend to lean towards other traditional marketing methods that are less expensive but possibly just as effective. Check out these six exciting ideas.
1. Word-of-Mouth Marketing
Word-of-mouth marketing is extremely effective and is also one of the least expensive traditional marketing methods. This strategy often focuses on online review sites like Google, Yelp, and Facebook recommendations.
Since 80 percent of people ask for a personal referral before choosing a vendor, managing your online reputation is critical. Consider offering incentives to your happy clients to provide you with positive reviews on these types of sites. Also, always monitor your reviews and respond to negative comments immediately to reduce potential damage.
2. Vehicle Advertising
Wrapping your car with branded advertising is an excellent way to market your business. Every time you get into your car, you're essentially a mobile billboard.
If you're not ready to go for a full wrap yet, consider branded car decals. These are far less expensive and easier to remove if you change your branding or are no longer happy with the look.
Driving a branded car also shows that you're committed to your business and are proud to represent it no matter where you go. This can help with goodwill, especially in smaller communities where people are likely to start recognizing your business's vehicles.
One word of warning, however. Make sure that anyone who drives your branded vehicles understands that they are representing your company when they're behind the wheel. The last thing you want is road-rage or some other incident tarnishing the brand you've worked so hard to establish.
3. Printed Ads
Printed ads are another old-school marketing technique that isn't going anywhere. In a world where you can read a book, search the internet, chat, and visit social media all from the same device, the distractions can get overwhelming. For this reason, many people are once again starting to lean towards printed media as their go-to source for information.
Magazine ads and newspaper flyers are an excellent way to capture the audience that's simply exhausted by the constant flood of digital media. To succeed in this space, you'll need eye-catching artwork and a tagline that hooks the reader, pulling them in.
4. In-Store Displays
If you're selling a product that someone can purchase in a store, then eye-catching in-store displays is another great way to grab your customers' attention.
Done right, these displays can stop shoppers in their tracks. Since they'll already be in the store, it's super-easy for them to pick up your product and toss it in the cart.
You make money, the store makes money, and the client gets instant gratification. That's what we call a win-win!
5. Direct Mail
Did you know there were approximately 281 billion emails sent last year? When you're looking at a huge number like that, it's easy to see that you'll have some competition while fighting for attention in someone's inbox.
On the other hand, there are far fewer businesses sending out direct mail. When your ad lands in someone's physical mailbox, you're more likely to at least get a glance. If your ad is well made with attention-grabbing visuals and headlines, you might even connect with your ideal customer.
6. Event Marketing
If there's one surefire way to earn goodwill among your ideal customers, it's by making your brand visible at the events they attend. This is especially true for local businesses who sponsor area charity and community events.
When you sponsor an event, you're often able to include your logo on banners and signage, on the back of t-shirts, and more. You may also have the opportunity to included branded promotional items and/or discount coupons in swag bags that go out to all of the attendees.
When seeking out events to sponsor, look for those that fit well with your brand or that you are truly passionate about. This will help you make true connections with the right types of prospective customers.
Is Your Brand Positioned for Effective Marketing?
Now that you have some excellent ideas to incorporate traditional advertising into your marketing plan, you'll want to make sure you have your brand positioning ready to go. This includes having a killer logo design.
Even if you already have a logo, giving it a refresh can breathe new life into your brand. Check out our tutorial to learn how you can make a new logo for free! Once your update is complete, you'll be ready to move forward with your new and improved marketing plan.