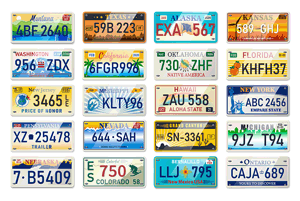 Originally Posted On: https://www.searchquarry.com/legitimate-license-plate-search/
How to run a legitimate license plate search
License plate lookup rules have changed over the last several years which has complicated the process of running a legitimate license plate search. There are new federal privacy laws and state specific privacy laws that determine what information is available and how that information can be used. As a consumer, it is more important than ever to familiarize oneself with privacy laws that are involved with a person's public record and what information is available by looking up a person's information via license plate number or vehicle identification number. SearchQuarry.com has done just that. When you go through the vehicle record search process, by license plate number or VIN, you will find all the privacy laws that pertain to the state you live in and what is allowable as determined by the state specific privacy laws. This feature of Search Quarry's license plate lookup is now a mandatory part of our vehicle record search. Each user must select an appropriate reason for their intended license plate number search and read and agree to the terms of the search. Some vehicle related and vehicle owner information may be limited depending on what records are available and allowable. It's important to read the details of running a legitimate license plate number search and the assumed liability associated with the information made available.
A legitimate license plate search can be performed by any person with a smartphone, laptop or tablet and an internet connection. Some of the information that can be found is vehicle title information, vehicle history reports, license plate owner information and vehicle specifications. To perform a vehicle record search using Search Quarry's resources, the user is required to read and go through the terms and condition process and agree to the terms of their specific search. "There are a lot of other companies that don't play by the rules, cut corners or don't explain the importance of privacy laws and what information you can access," says a Search Quarry representative. "Our license plate lookup resources are relevant and compliant and it's mandatory that a person reads and accepts the terms of our search before obtaining any information. A lot of other companies do not."
It's now considered to be "Best Practice" in the digital information community to be transparent about what information is available, as well as disclosing the relevant privacy laws that are germane to each public record search. "Transparency is what public records are all about," says the representative at SearchQuarry.com, "we strive to make privacy laws associated with accessing information obvious and necessary so everyone knows the responsibilities with accessing digital information"
Privacy laws regarding a license plate search
Photo by searchquarry.com
There are a multitude of privacy laws that frame a legitimate license plate search. At the top, there are the federal privacy laws that must be adhered to. Then there are the state privacy laws, and each state has a different take on their version of what is considered a legal or legitimate license plate search. These privacy laws surrounding a vehicle plate search can vary quite a bit from state to state, such as the reasons why a person can perform a license plate number search. For example, California has an extensive consumer privacy law that is continually being updated. It's called the CCPA, or the California Consumer Privacy Act. Each state has a slightly different take on this, so it's beneficial to become familiar with these laws before accessing or submitting any search information as a consumer. These can be found in every license plate search performed on SearchQuarry.com, a good example being the California license plate number search.
Some online public record website are more legitimate than others when it comes to data collection, data protection and validating a person's request to access public information. The more legitimate public record resources make it a mandatory step to read, review and select a valid reason for performing such search. One thing that every state has in common with their privacy laws is that it's illegal to use the information obtained to harass or use in an unlawful fashion. This means that it's up to each person that performs a public record search to make sure they're using the information as intended and in accordance with their state's privacy laws. It's also beneficial to read and review the terms of service of any public record resource that is being used, both privately run public record resources and government public record resources.