Photo from marketyourbiz.agency
Originally Posted On: Chapter 4 – LOCAL SEO – A Quick Guide to rank locally and increase revenue – Market Your Biz
Chapter 4 – Local SEO
What Is Local SEO?
When was the last time you looked to have food or grocery delivered to your doorstep? How often do you turn to the internet to look for an address of a company you want to do business with? When you do either of these things you are relying on the power of local SEO.
Business owners who have a brick-and-mortar shop or serve a particular geographic area leverage on local SEO to increase traffic and brand awareness. There are various tasks associated with local SEO. Some of them include searching for local keywords and creating a Google My Business account. Local SEO utilizes NAP citations which stands for name, address, and the phone number of the company. This citation also includes a link to the company's website.
Why Does Local SEO Matter?
According to Google, nearly 46% of all its searches are for local companies while 76% of users who perform a local search on their phone visit a local business on the same day. Since results for local SEO usually include operating hours and reviews from other consumers, you can imagine what an impact it can have on a company's revenue.
Inarguably, local SEO matters for businesses that need to thrive at a local level. NAP citations built through local SEO can help a local business' Google ranking as long as the information is accurate and relevant.
In 2016, Google began including a small yet significant update to the way that search results, particularly for local businesses, appeared. Referred to as a local pack, it points to the expandable section towards the top of SERPs when a user submits a query that Google interprets as local SEO.
Since then, NAP citations have grown and become more accurate, businesses have learned to use Google My Business, and local SEO has grown in use and popularity.
The question now is: how can you leverage on local SEO?
How to Optimize Your Website for Local SEO
Think about it: If your website is not optimized, how can local SEO alone help in Google ranking?
The short answer is: it cannot help. You can have local SEO without optimization, but you would be missing out on a significant opportunity to have a higher ranking on Google without it. Hence, website optimization needs to happen before you begin local SEO efforts.
Significance of a Proper Contact Page
Your website needs a committed contact page. Users want to know more about your company before deciding whether or not to do business with you. This is where the NAP citation is essential.
Double-check your name, address, and phone number on your contact page. Incorrect information is not only annoying for users, but can also keep potential customers away.

Add Business Addresses
If your company has more than ten locations, you do not need to add all of them, but if it has less than ten, make sure you add all the details for each address in a convenient place on the website. Usually, the business address is located in the footer section of a web page.
Link Mobile Numbers
People tend to use their mobile phones when looking for local business. Hence, it is crucial to make all the mobile numbers listed on your website clickable. Doing so allows people to directly call your business without having to switch applications to dial your number.
If you don't know how to do this, there are several websites which can walk you through the process.
Location Optimization
On many occasions, users are unable to locate or understand your business address. This is a frustrating experience for would-be customers and can lead them to find another business similar to yours that is easier to locate.
To avoid this situation, add a map or provide a link to your location on the website.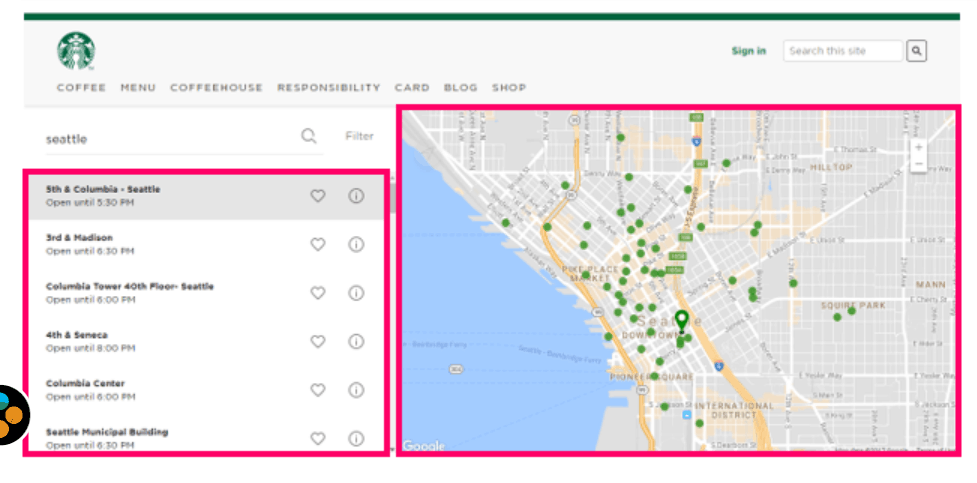 Testimonials Help
When you add testimonials to your website, it lends an authentic voice to your page and sends a positive signal to users and search engines. It allows prospective customers to survey your business beforehand and decide whether or not to pursue a relationship with your company.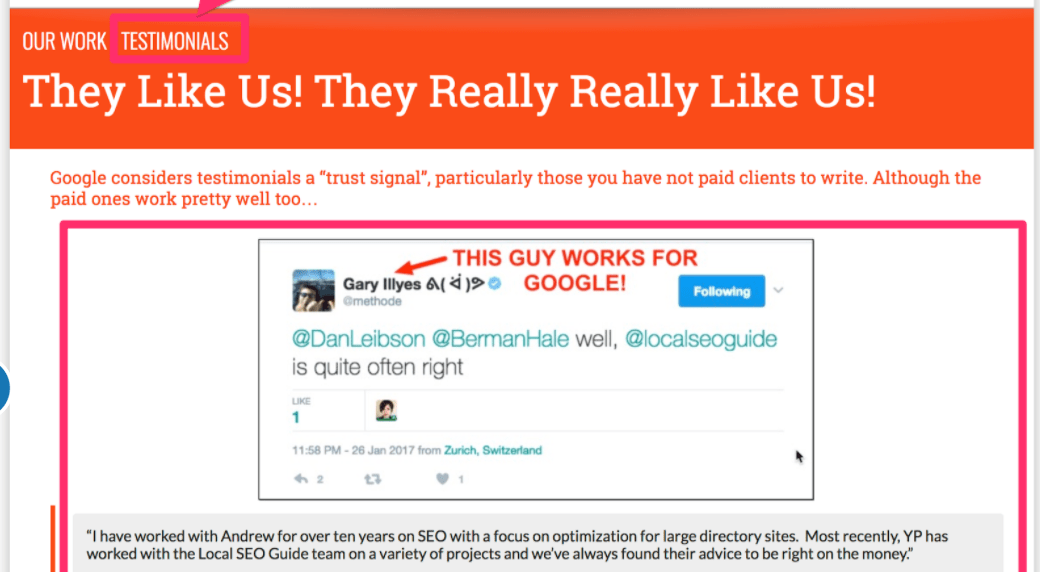 Schema to the Rescue!
In the previous chapter, you came across the concept of schema markup. To recap:
Schema refers to particular code on your website allowing search engines to understand what your website is all about.
When you add a specific schema that clarifies that your website is a local business and not a major brand, you attract more local users.
There are tools like Hall Analysis that help you create schema for your website.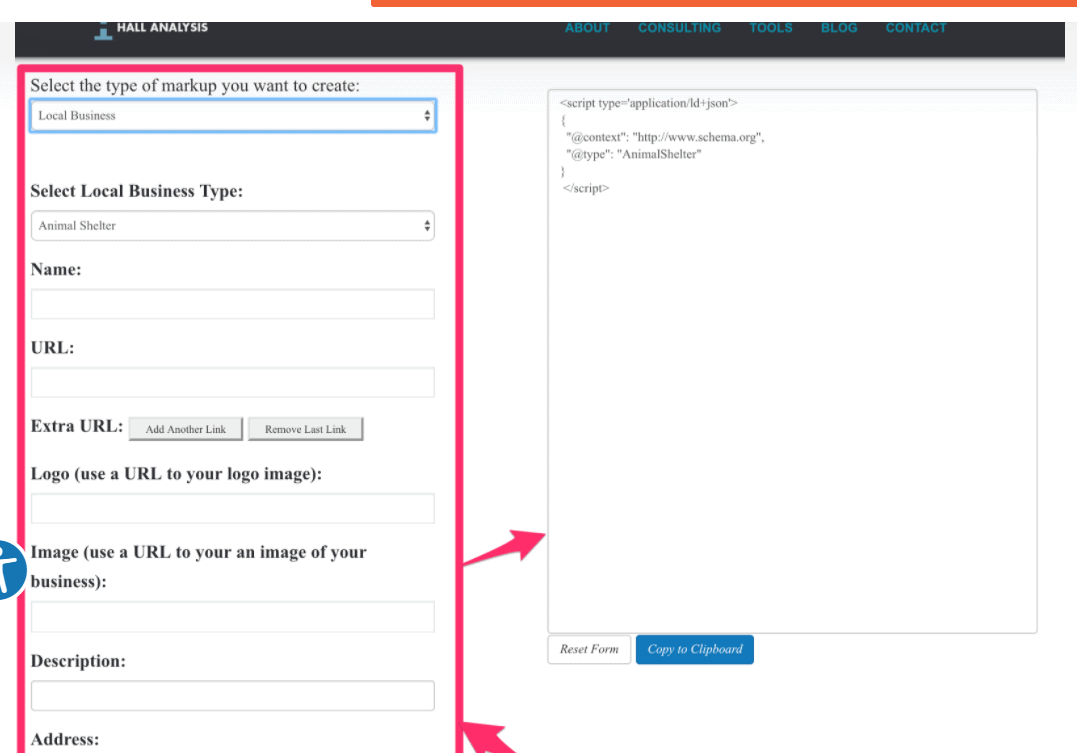 Now that you know how to optimize your website for local SEO, you need to understand how local SEO and search engines interact with each other.
Understanding Local SEO and Search Engines
As mentioned above, there are two concepts you should know: local intent and local pack. In this section, let us focus on local intent.
Do you notice when your geolocation is active, and then you search for a bookstore or a diner on Google, it gives you a result peppered with nearby places? It happens because Google senses local intent from you and reacts accordingly by displaying local businesses.
Since geolocation relies on either GPS technology or your IP address, you can end up performing a local search even when your geolocation is turned off. A search, for example, for "diners near me" will make Google list all the local restaurants near you.
Over the years, Google has simplified local searches for users by adding features to local SEO. The local finder is one such example whereby users can view a longer list of businesses than the initial three listed by the local pack.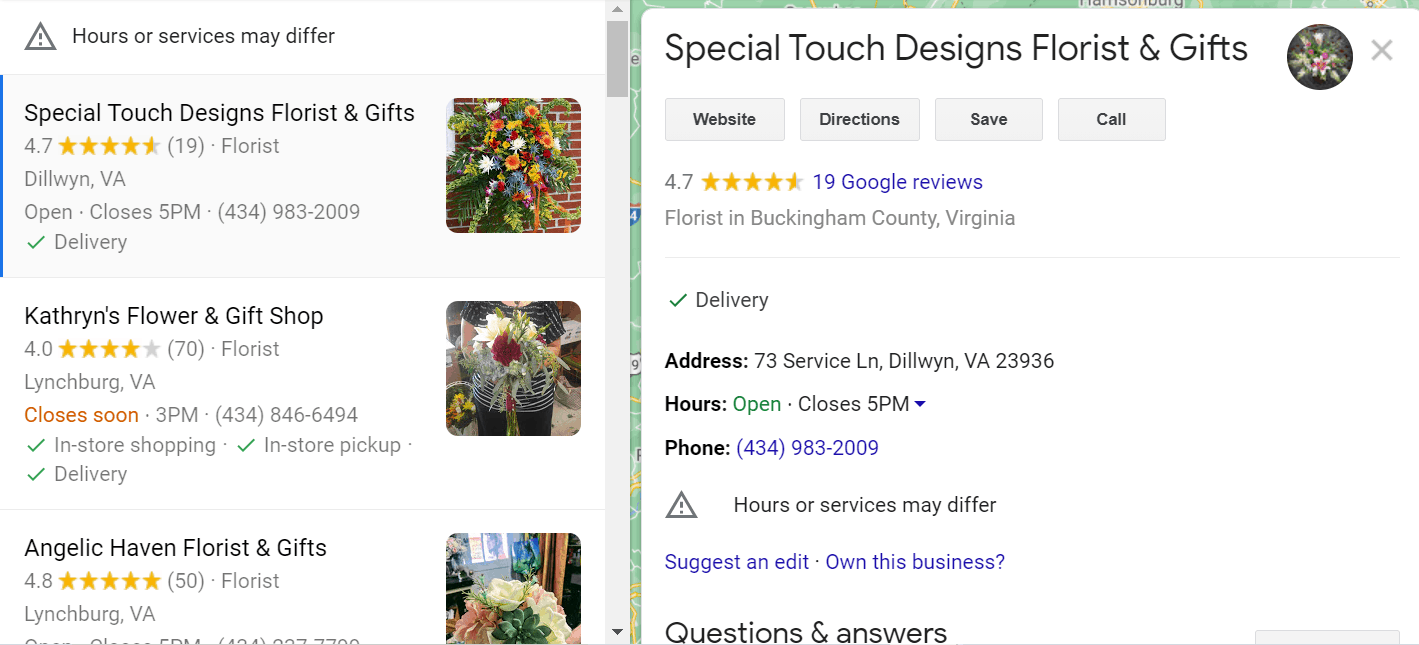 So how does Google's algorithm work when it comes to local searches?
Within the context of search engines, an algorithm is a series of instructions that a computer follows to produce an SERP in response to a query. However, when it comes to local SEO, Google's algorithm works differently. Apart from the usual factors, Google considers other aspects such as:
The relevance of the business
Prominence and credibility of the website
Proximity of the business to the user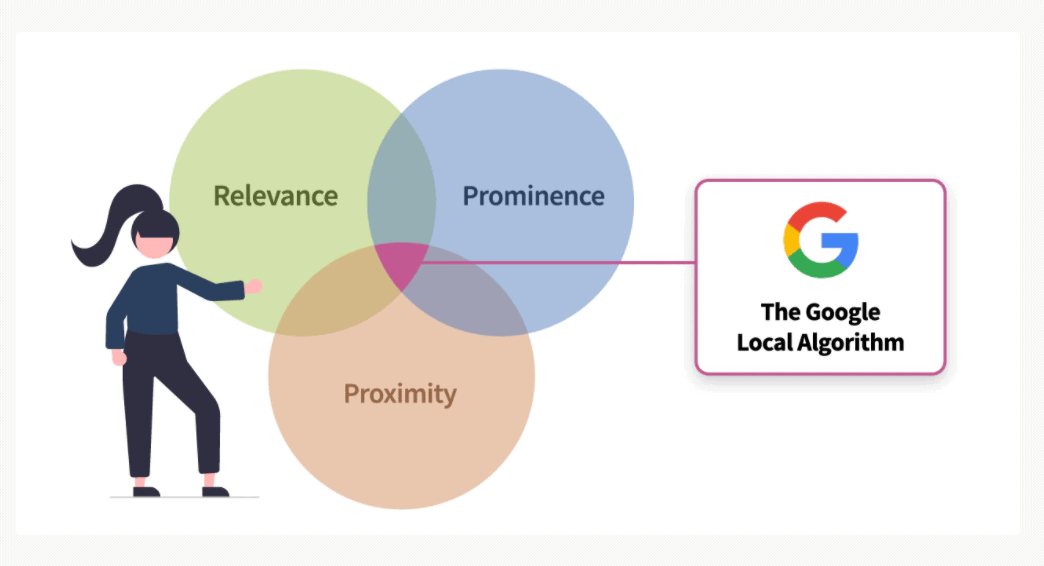 Again, because of Google's modified local SEO algorithm, it becomes really important to ensure that the information on your website (particularly your business name, address, and phone number) are correct and kept updated.
Understanding Local SEO and SERPs
When you look up information that Google recognizes as a local search, Google displays local search engine results pages or local SERPs. After performing local SEO searches for different things, you will notice that these results are displayed in the same format. However, there can be slight differences in format depending on whether the website has a local pack or is organically localized.
But wait, what is the difference between a local pack and a local organic search?
A local pack is what appears on an SERP when the search engine detects a local search from a user. Since it is based on location, Google typically shows a map of three business listings based on a location. An organic search is not based on location and the results can be a variety of different businesses, social media pages, news stories, blogs, videos, etc.
Local business owners should ideally aim to rank high on Google's SERP and local pack listings. Below is an example of a local pack. Notice how the elements and layout are different from a regular search result.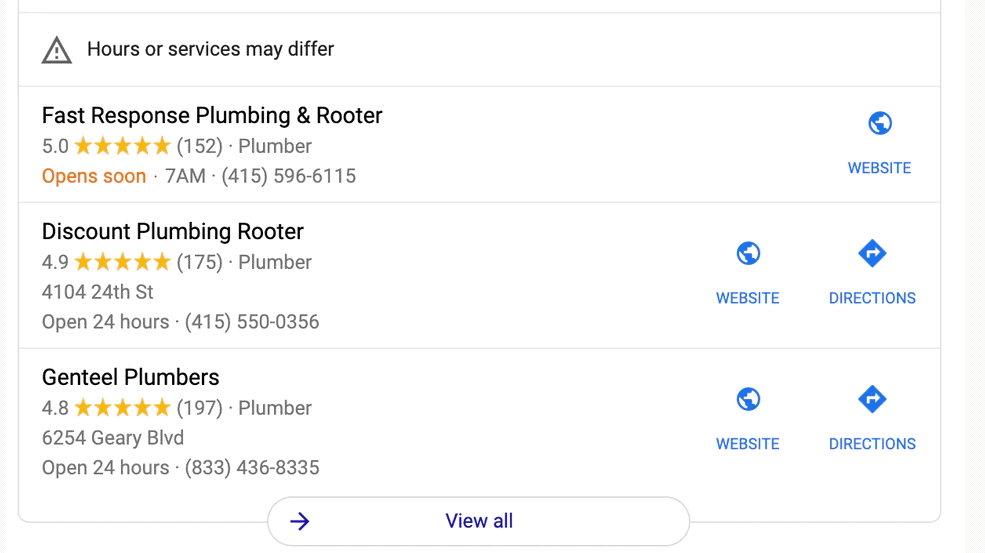 Google identifies these local packs from the Google My Business account. It is a crucial part of local SEO marketing.
Having said that, let's move on to how to make Google My Business work for you.
Local SEO Tips
Let us reiterate: your first step should always be to optimize your website before moving on to work on local SEO. Once you've done that, look into the tips below to build up your local SEO.
Create Online Profiles – (Principally Google My Business)
If you have a business, there are other ways to achieve an online presence apart from your company website. Consider platforms like Yelp, Tripadvisor, Facebook, and most importantly, Google My Business. You can also create your profile on local sites as it increases the chances for local reviews.
Why focus on Google My Business specifically?
When you create your profile on Google My Business, you are leveraging on Google's local SEO feature and making it work for your company. Google My Business is invaluable because it allows you to enter and display details that are unique to local SEO such as your operating hours, contact information, and a link to your website. It also allows you to add your business location using Google Maps, which can be extremely beneficial to your business.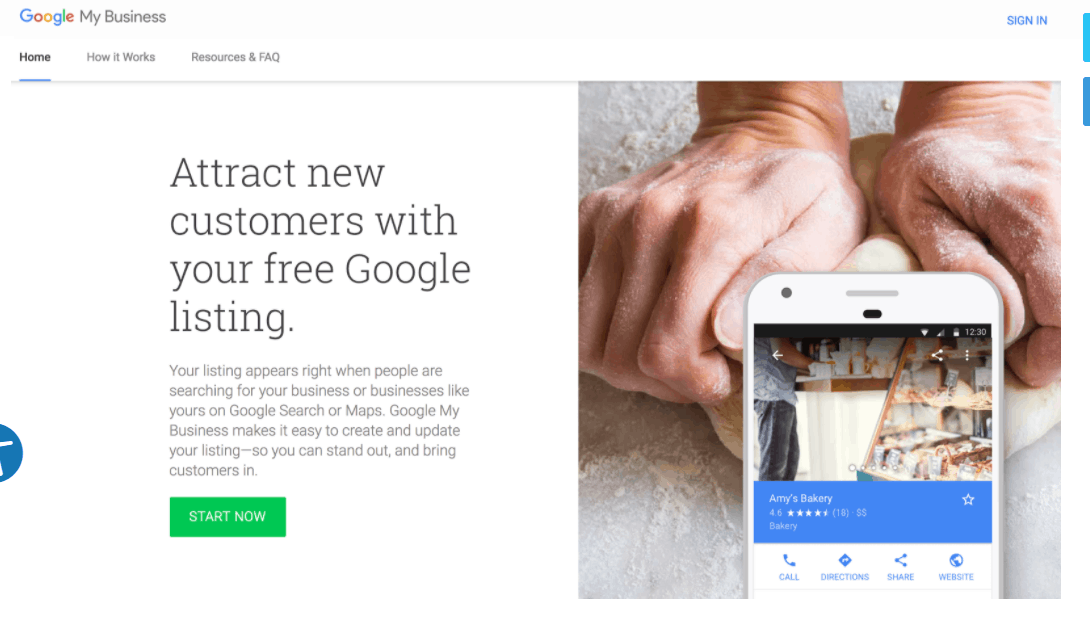 Don't overlook business listings, directories, and review sites.
Earlier, we recommended adding to your online presence using other online platforms. Here's why: search engines may show results from Tripadvisor, Yelp, and other similar websites when users search for your business. Hence, it's best to create a profile for your business on relevant platforms such as these.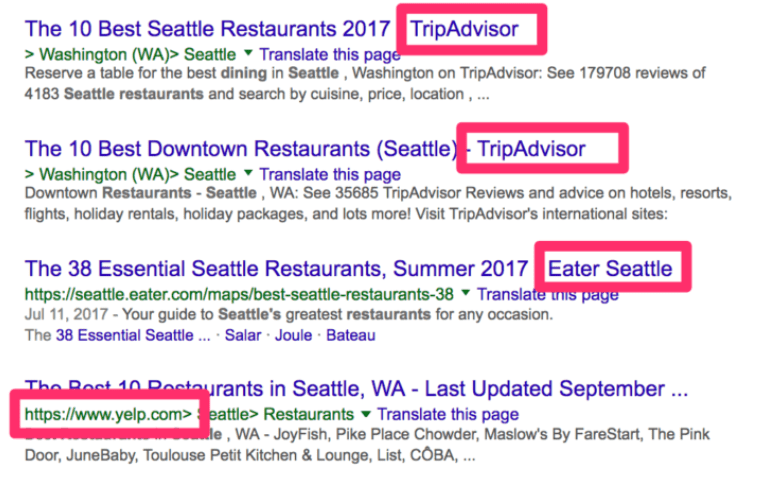 Pay attention to your social presence.
When considering how else to augment your online presence, strongly consider social media platforms. When doing so, make sure that you are being consistent with the information that you are providing so that visitors will know that your profiles across these platforms refer to one and the same company.
Generate Local Content
A blog on your website is one of the best ways to generate local content. When you create a blog, make sure it is on your primary business domain and people visiting your website can see it. Blogs are especially helpful because they can help you achieve natural links, one of the best ways to increase your ranking.

A great way to increase value for your blog is to create content that is localized. Local content makes your content particularly relevant because it is specific to your business and the place where it is located. The question now is: how do you create localized content?
Mention local places found in your business' immediate vicinity (cities and neighborhood)
Add local news
Highlight local events by writing about them or, if possible, sponsoring them
Consider including opinions from local experts relevant to your business
Are there things to avoid when trying to generate local content?
Certainly. Make sure to avoid the following:
Avoid trying to overly sell your products or services using your blog. Such posts are generally unhelpful and do not help catch the user's attention.
When you create local content for your website, make sure you do not copy other website's information. Be genuine and make your services and products stand out by making your messaging a unique and authentic representation of your brand.
Avoid various approaches to your business. Strive to keep your website's brand as consistent as possible wherever and whenever your company is mentioned online.
Focus on Backlinks
When you are generating content for local audiences, you also need inbound links or backlinks. Your relationship with other businesses helps you improve your efforts to gain inbound links. Begin by initiating some online interaction with complementary businesses where you see a mutually beneficial relationship. Try leaving useful comments on their blogs and add a link to your blog.
Another way to go about link building is performing a backlink audit of your competitors. A backlink audit refers to the research you can conduct on your competitor's website to find out the links that are pointing to them.
There are tools like Ubersuggest that help in performing a backlink audit.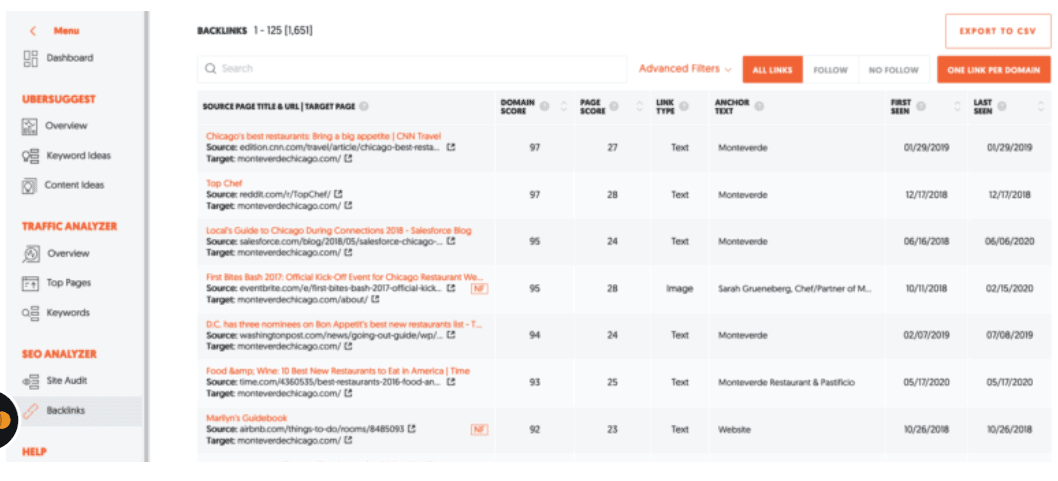 Pay Attention to Your Target Audience
Knowing your audience is no less important when you are looking to utilize local SEO. Do you know who your target audience is? It's an important question that you need to consider even before you begin working on your website. Your products and services, your content and the way it is written, including the look and feel of your site need to cater to your target audience.
To have a local perspective on who your target audiences are, you may want to take a look at tools like Zip Code Lookup.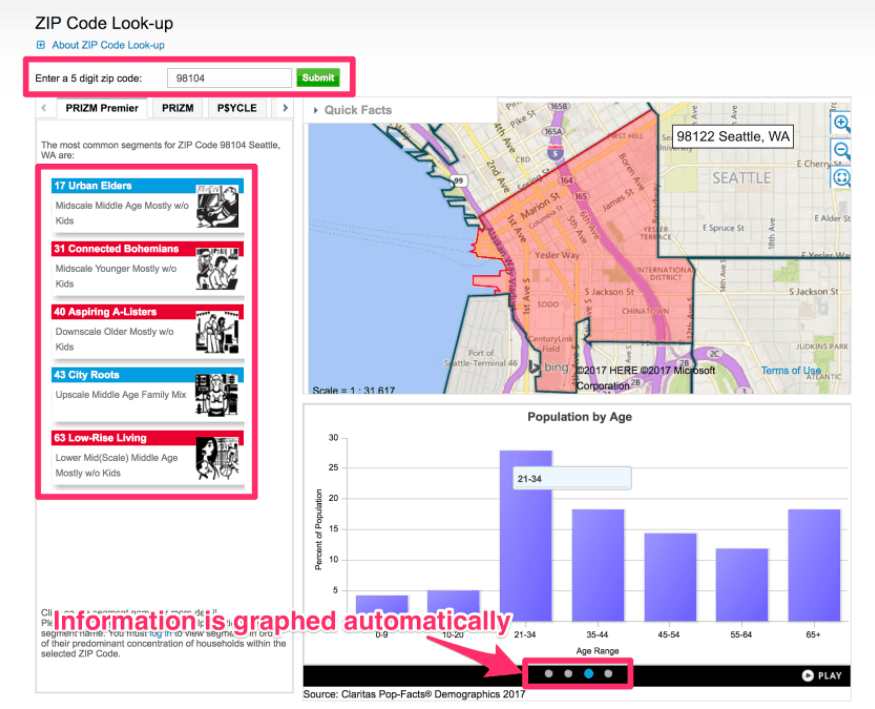 Significance of Local Reviews
Do you know how easy it is to dupe people in business? Actually, with the internet and savvy consumers, it's becoming harder and harder. Over time, the internet has provided users with increasing resources to differentiate between a legitimate and illegitimate business. How you ask? Through local reviews of course.
When your local business is up and running, people will post reviews about it. These reviews can consist of compliments, feedback, or overall experience. People check these reviews and ratings before planning to deal with your business.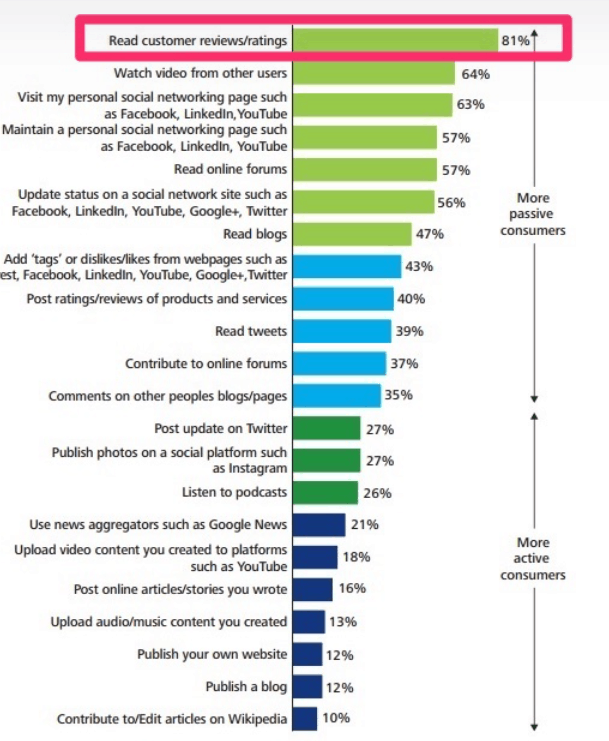 If your website or business profiles lack ratings, you may face difficulty in boosting your local SEO. As mentioned above, when you join Google My Business, you automatically enable reviews to be added to your local pack.
Reviews are continuously posted by clients and potential clients. It is crucial to remember that every comment counts. If you receive any negative reviews, which at some point every business does, reply to them professionally and courteously. Most websites include a feature that allows businesses to acknowledge and respond to reviews in-line.
That being said, Google reviews are one of the most vital local ranking factors. No wonder some businesses resort to asking customers to post reviews. As good an idea as it sounds, asking customers to leave positive reviews of your business is not a wise course of action at all. The best reviews are authentic and are generated organically as a result of a genuinely positive experience with your business.
Additionally, Google has become wise to manipulated rankings. Incentivizing positive reviews, for example, is against local SEO policies.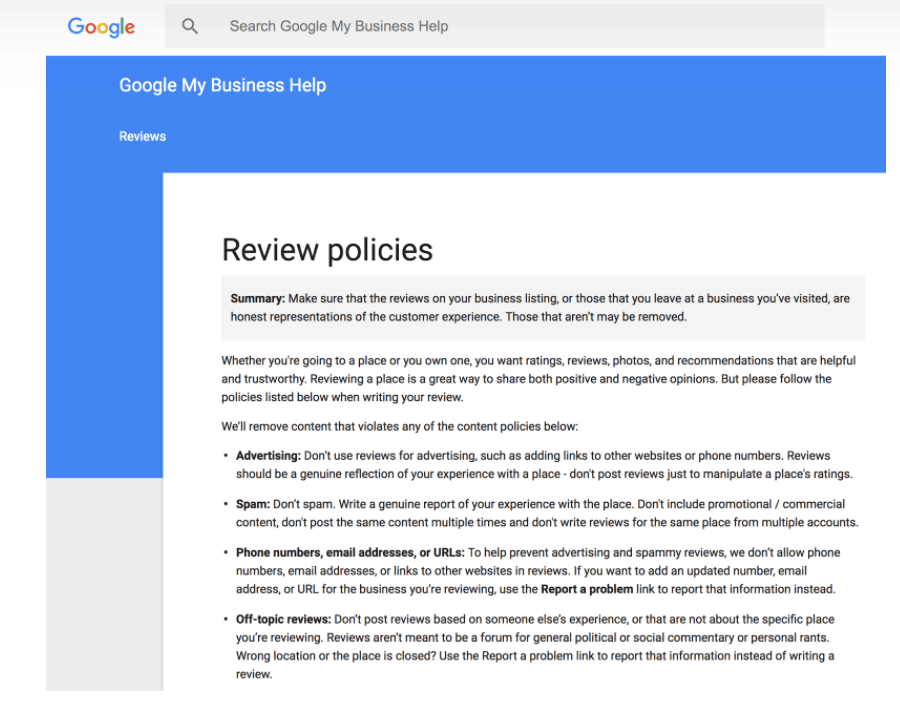 Everything about Citations
Citations, as mentioned above, are the contact details of your website even without an actual link to your website.
These citations are a crucial part of local SEO as they generate local signals for your brand. You need to refer to an actual physical address when building them. If your business has different locations, you can customize it, provided you are consistent with your brand name and messaging across all citations.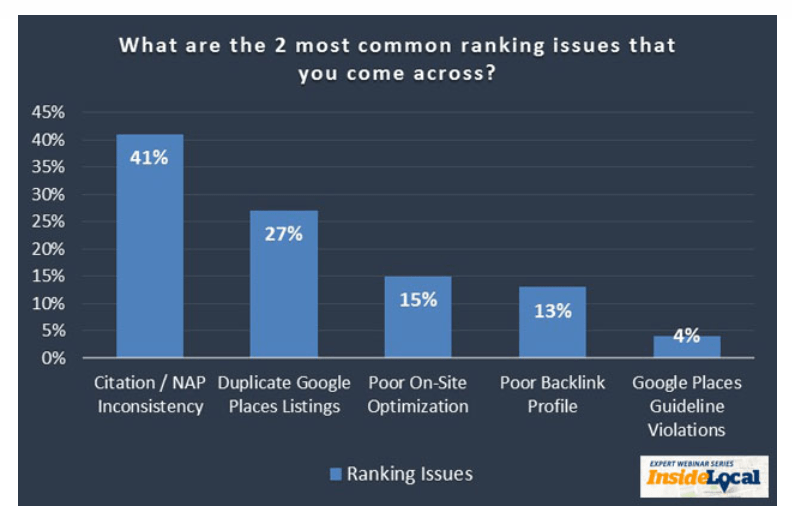 If you are using abbreviations, make sure it is acceptable. You can refer to Whitespark's complete table. More on this later.
Let us look at some ways to build citations for your business.
Use local search engines
Google or other search engines like Bing use web crawlers to look for citations to update their indexes. To ensure that web crawlers find your citations, you need to focus on listing your business on Yelp, Hotfrog, or any other relevant local directories.
Use local blogs
As you read above, blogs are an essential tool for boosting local SEO. Blogs can also help to build citations. When you optimize your blog using high-quality content and relevant inbound links, search engines can effortlessly find your citations.
You should also find other relevant blogs for inbound links as they can add credibility to your local business.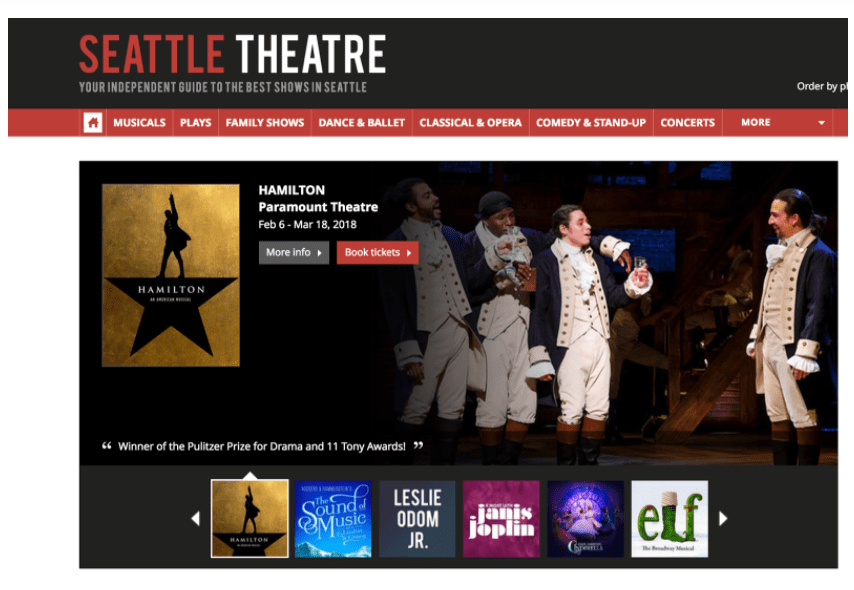 Use local directories
Local directories are similar to local blogs. They increase your credibility as a business. Try using local directories that are edited by people. If you choose machine-edited ones, there are more chances of spam.
Begin your search for local directories journey by adding your business to Best of The Web's regional directory.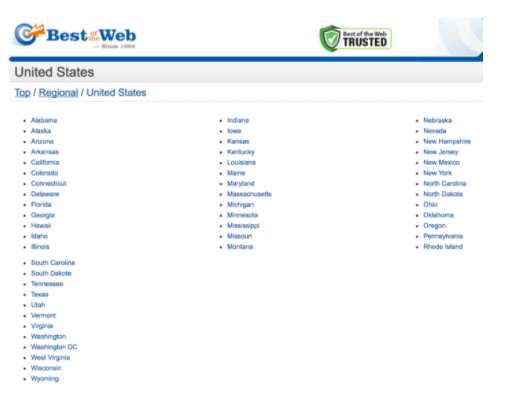 After doing so, you can customize your directory search by filtering your list using the targeted city or state's name.
Industry-specific directories or blogs
Industry-specific directories or blogs are another way to achieve citations. Look for blogs or directories that are focused on your industry and find a way to have a listing (if it is a directory) or be mentioned (if it is a blog). They may not always be local, but search engines count them as justifiable citations.
Porch is an example of an industry-specific directory. Its website connects homeowners with home improvement professionals across the United States.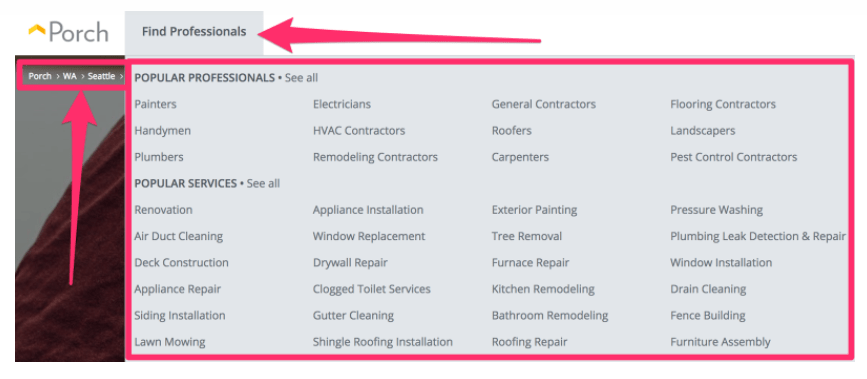 Citations are undeniably an essential part of your business' online presence. Make sure you have them wherever relevant and that they are consistent.
Other Local SEO Tips:
Now that we've covered the basics of local SEO, there are other aspects that we recommend you check off your list once you've done the above:
Improve your internal linking structure to give your local SEO a boost. As you read in the off-page SEO chapter, taking care of how your internal pages are structured is vital for your website.
Optimize your title tags, meta descriptions, URLs, titles, headers and content as necessary for local intent.
Add a location page to your website. It is similar to a citation and can help users find your business easier.
Make your website mobile-friendly as it helps in local searches. Users are more likely to search for a local business using their mobiles.
Now that you know how to optimize for local SEO, let us look at some useful tools you can use.
Top Local SEO Tools
Local SEO tools help boost your local ranking. Here are a couple which you may want to consider using:
Moz Local
Boosts your local visibility by validating the information in your business listing
Sends location details of your business to online directories to eliminate duplicate listings of your website
Provides access to a dashboard where you can manage your listings
Updates your status across the web as soon as you enhance your data
Allows you to monitor your reviews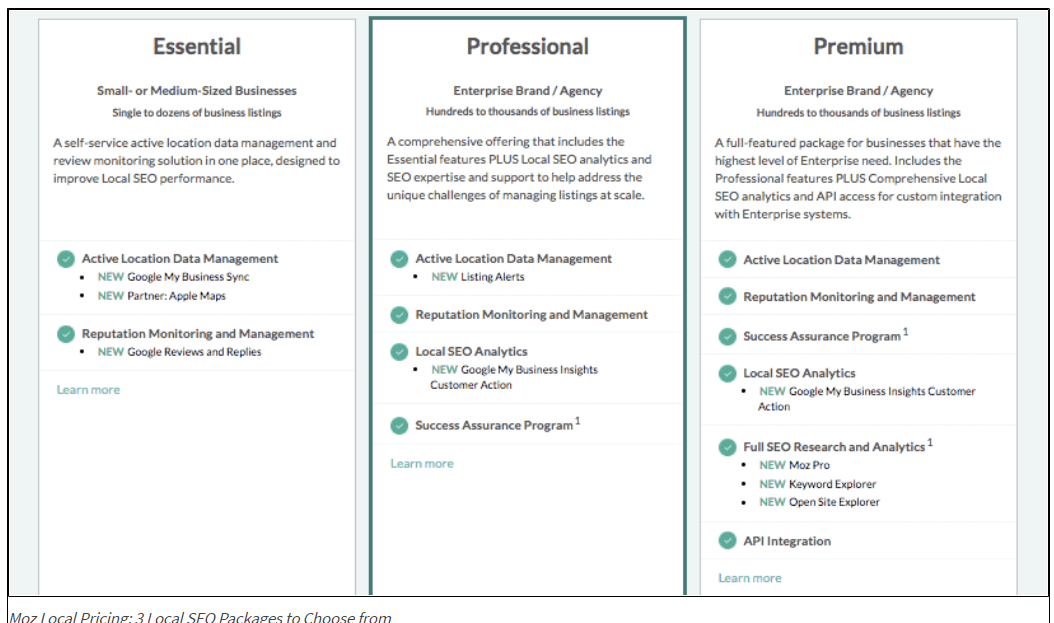 Best Feature:
Moz Local automatically synchronizes your Google My Business profile and updates your listings according to the changes you make on this profile.
Price: Ranges from $99/year to $249/year. (Depending on the package you choose)
BrightLocal
You can use this tool for auditing citations and Google My Business profiles
Generates legible SEO reports
You can track the search rankings for targeted keywords
This tool can help fix and create new citations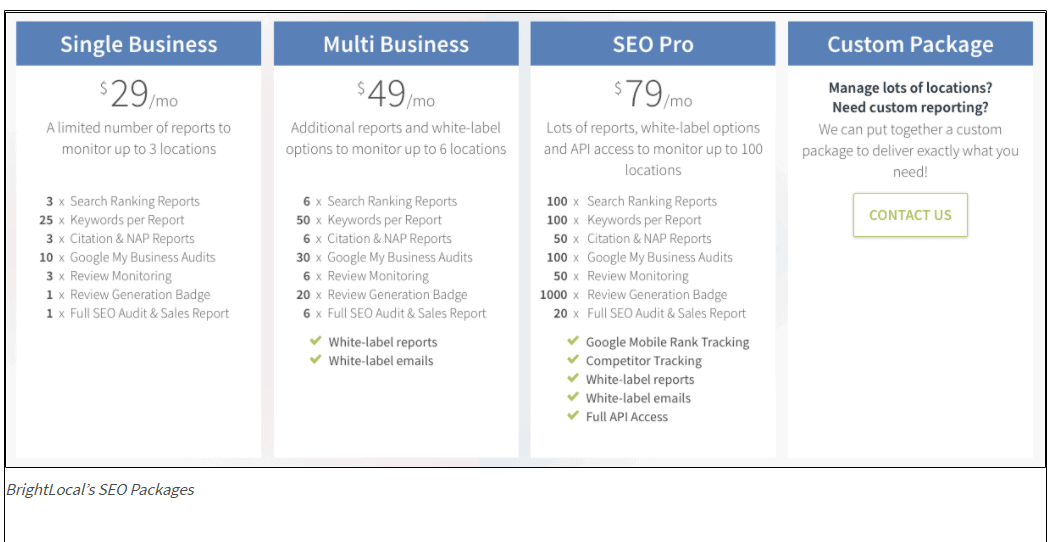 Best Feature:
BrightLocal offers white-label reporting, which is a beneficial tool for business branding. In white-labeling, you add your brand to another company's product to show an united front to your clients. The reporting tool allows you to customize your dashboard according to your needs..
Price: $29/month (single business) with a 14-day trial period
Semrush's Listing Management Tool
Employs Yext, a digital platform, for listing your business across all the social platforms
Provides you with a dashboard to manage your listings
Dashboard allows you to check the listing status of your website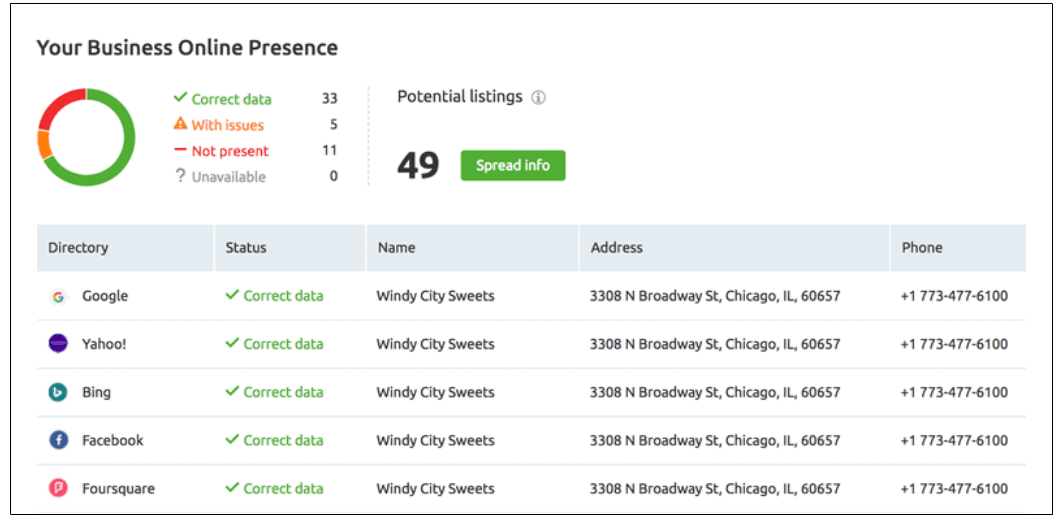 Note: This tool is available only in the US, UK, Germany, France, and Australia for the time being.
Price: $119/month (with Listing Management Tool)
GrowthBar
It is a Google extension, hence you do not need to leave the browser to check other details like backlink analysis, keywords, etcetera
You can have detailed information for local keyword ranking
This tool gives you information about your competitors' keywords

Best Feature:
GrowthBar can help you identify the top-ranking keywords of your competitors.
Price: $29/month with a 5-day free trial
Whitespark
This tool focuses more on local search marketing
It helps in finding local citations, tracking ranks, and building your website's reputation across all online platforms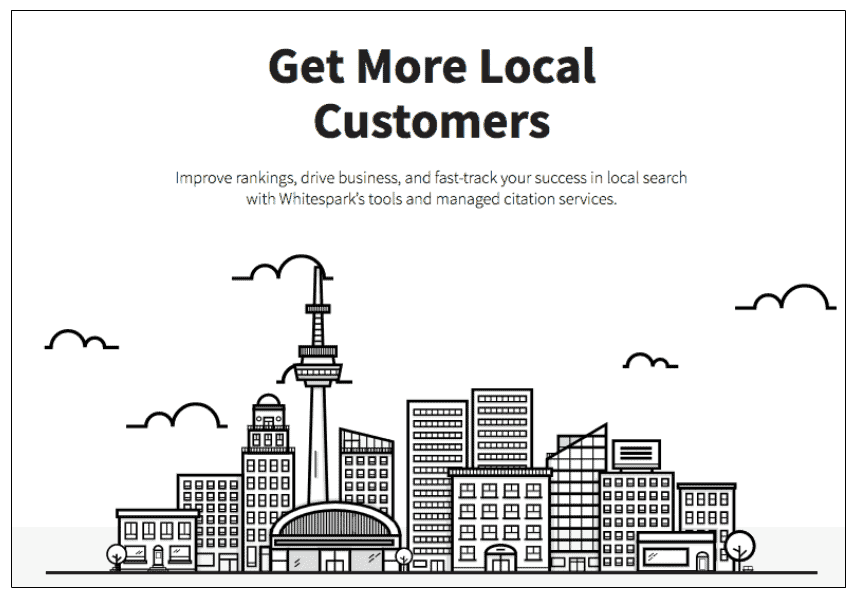 Best Feature:
Whitespark helps you find promising links for optimizing your internal pages.
Price: $100/per location (You can add up to 5 industries or local sites)
Make Local SEO Work For You
Before local SEO, the local pack, NAP citations, and the tools mentioned above came along, small and local businesses had to rely on advertisements in local publications, printed phone directories, and flyers circulated in their neighborhoods. Today, business owners have a lot more control over how and where their products and services are promoted. If you are a business owner with a physical storefront or servicing a targeted area in your vicinity, make sure to take advantage of local SEO. It can help your business grow faster, more cost effectively, and efficiently