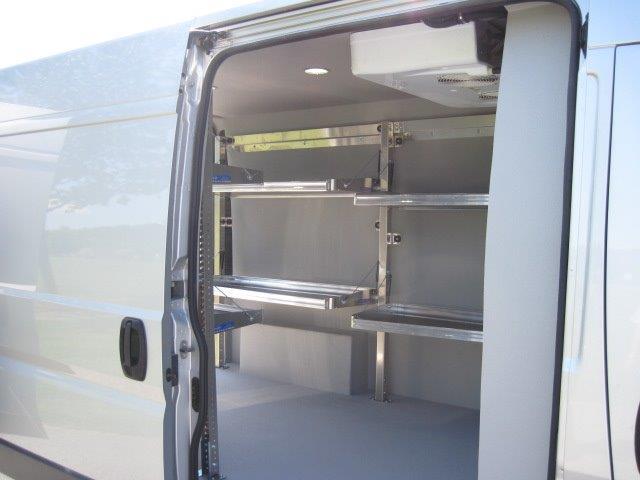 In 2015, 141,872 commercial vehicles took to the roads performing all kinds of jobs from delivering cargo and installing cable boxes to filling potholes and fixing power lines.
One of the biggest problems these workers encounter is hauling their equipment around and storing it a generic work van.
Are you always on the road and think your van could use a little organization? If so, van shelving might be the perfect solution to keeping your tools in order so you can get the job done, without the hassle.
In this article, we're diving into six ingenious van shelving hacks you can use in your vehicle today to make your life a lot easier.
Grab your keys, we're getting started.
5 Genius Van Shelving Ideas
Do you ever struggle to find the tool or material you're looking for only to realize its under a pile of cables or hidden away under equipment? Do you seem to never have enough space?
If you answered yes to any of those questions then you'll want to read on to find out how van shelving specific to your vehicle will change the way you travel with your stuff.
1. Bin Shelving
Does your job take you through rough dirt roads or streets covered in potholes? If so, you'll want to install some bin shelving in your vehicle to avoid your tools moving around. This type of shelving is best for larger equipment items like cables or power tools.
When looking for a shelving unit, opt for steel framed shelves that provide you with the strength and quality you need.
2. Drawer Systems
For smaller tools and parts you may want to consider installing a system of drawers along your van's walls for easy storage. The draws slide in an hour providing safe storage and easy organization for all of your equipment. The drawers can be easily labeled and stay quiet as your drive.
3. Fold Away Shelving
If you need more space in your van but at times, could benefit from a shelving unit, then your best option are shelves that fold away. They're the best of both worlds.
These shelves are efficiently designed to be adjustable, lightweight, and strong. What's even better is that they are rattle-free so you can enjoy and peaceful commute.
4. Custom Shelves
If you're looking to upfit your van, but can't seem to find the right organizational fit for you, then custom shelving might be the perfect solution.
These shelves are precisely tailored to your needs so no matter what equipment you carry, or what vehicle you drive, we can install something that works for you.
Want a Quick Quote for Your Vehicle?
Van shelving is perfect for anyone with a van and a lot of stuff. If that sounds like you then give us a call or fill out our online quote form today.
Whether you're looking for a new tricked out van or are looking to upfit your own vehicle, click here and we'll send you a quick quote, for free.
Getting organized has never been so easy.